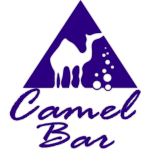 PROBABLY THE MOST FAMOUS BAR in Sharm El Sheikh!
Camel Rooftop Bar is an iconic symbol of what happens when the sun goes down here in Naama Bay.

ROOFTOP BAR (from 6pm till late): chill out with long drink and admire the spectacular views of Naama Bay.
CAMEL BAR: watch big sports games, get funky with karaoke and live bands in Camel Bar's air-conditioned interior.
TERRACE: enjoy a sundowner on the Terrace and watch the world go by on the promenade below.
Don't miss our daily drinks promotions, Happy Hour and Weekends Sports Specials. All three bars serve tasty snacks and a full drinks menu, including cocktails and shooters.
Nothing compares to having a drink a little bit closer to the clouds on our rooftop bar. Enjoy the Sinai's warm breezy evenings with panoramic views of the sea and mountains from our central position here in Naama Bay. Soak in the atmosphere, order a drink and relax with friends in the comfy cushioned seating area. Get the romance going and enjoy a cocktail from our extensive beverage menu before dinner under the stars.
Happy Hour: Enjoy special price on selected drinks every day from 6-7.30 pm.
If sport is your passion and you enjoy watching big games in air-conditioned comfort with great food and drinks, then make Camel Bar your viewing destination! We show major sports programmes daily so there is an event for every sports enthusiast, including premiership football, Rugby Union, Formula 1 Grand Prix and cricket internationals.
Sports Promo: Buy 3 beers get 4 promo during selected matches on the sports schedule.
This Week's Sports Schedule
| | | | |
| --- | --- | --- | --- |
| May 20, 2023 | 14:30 | Football | Spurs v Brentford |
| May 20, 2023 | 17:00 | Football | Liverpool v Aston Villa |
| May 20, 2023 | 17:00 | Football | Bournemouth v Man Utd |
| May 20, 2023 | 19:30 | Football | Nottingham Forest v Arsenal |
| May 21, 2023 | 15:30 | Football | West Ham v Leeds |
| May 21, 2023 | 16:00 | Football | Brighton H.A. v Southampton |
| May 21, 2023 | 18:00 | Football | Man City v Chelsea |