As a certified diver, you may dive by shore or join our daily boat trips. 
There are over thirty dive sites suitable for scuba diving in Sharm El Sheikh. Our friendly and experienced instructors will guide you around some of the best. We take care of all the logistics, so you can relax and enjoy your dives.
Divers are accompanied by a dive guide
Maximum of 6 divers per guide
Full briefing before every dive, covering safety and features of interest
Our dive centre and boats carry emergency equipment
Choose a full or half day diving, or diving packages
Why dive in Sharm El Sheikh? 
We will have you drifting along sea mounts in the Straits of Tiran, exploring the stunning coral gardens and walls of our local sites to hanging out over plateaus packed with incredible coral pinnacles  and dramatic drop offs in the Ras Mohammed National Park.
We also run night dives from the shore, a special day trip to Dahab and boat trips to the wrecks of the Dunraven, Million Hope and the infamous SS Thistlegorm.
Our guides will take you through all of the options at the beginning of your holiday to ensure that you make the most out of the trips we have running throughout your time with us.
Your first day
You will usually make your first dive by shore or boat at a local site along the coast. Local sites are sheltered from waves and current and offer an easy and relaxing start to your diving holiday. Our instructors will advise you on other trips.
Check dive and Refresher course
To ensure that your dives with us are safe and enjoyable, if you have not dived in the last 12 months we will ask you to make a Check dive. This will be the first dive of your diving package. Before the dive, your instructor assists you in assembling your equipment and briefs you about the skills that you will practice. You spend the first few minutes of the dive practising basic scuba skills with your instructor, before continuing on a guided underwater tour.
If you have not dived for two years or more, you will need to take a half-day Refresher course. The Refresher aims to refresh your existing diving knowledge, so that you may participate comfortably in guided dives. The course consists of a short quiz to refresh diving theory, skills practice in confined water and one open water dive. Your instructor will assess your skills and comfort level during the dive, and recommend suitable sites for guided dives on subsequent days.
Please note: 
If your diving certification involves a depth limit up to 12m, we require you to have a private dive guide for daily diving.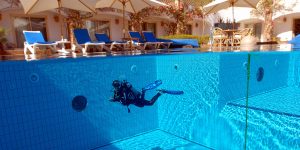 Make this winter a warm one - Learn to Dive in the Red Sea. Valid for arrivals between 1 December 2021 – 10 March 2022, excluding Christmas holidays from 21 December – 4 January 2022.