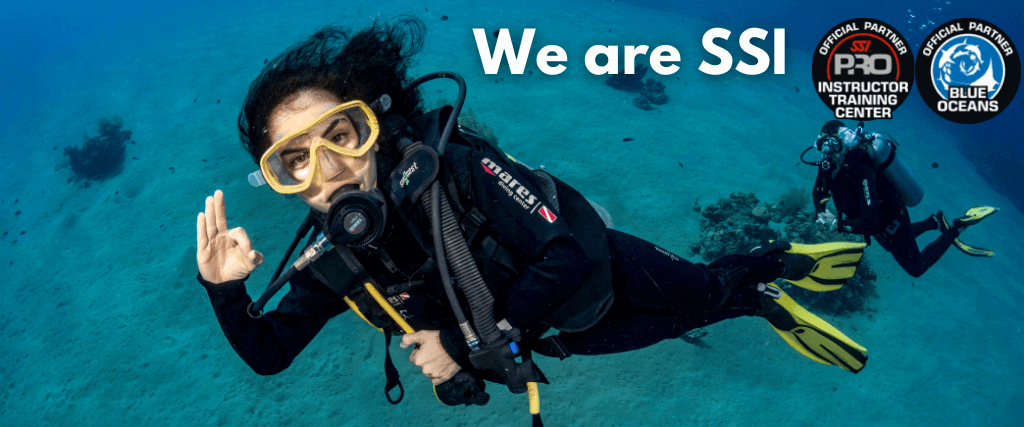 From 1st June 2022 Camel Dive Club has launched exclusively as an SSI Instructor Training Center and Blue Oceans Partner. 
We accept all divers of all levels and training agencies. As an SSI Training center, we offer full range of SSI recreational scuba diving courses. 
Who is SSI?
Founded in the United States in 1970, SSI had a clear vision to offer more comprehensive diver training programs. 
SSI partnered with the equipment manufacturer, HEAD, in 2014. Since then SSI has become one of the most innovative and fastest-growing training agencies in the world. SSI was the first to become a digital-based training agency, in 2006, with state-of-the-art education programs. SSI went fully digital in 2015. 
Since 1970, Scuba Schools International (SSI) has become the world's largest professional dive business-based training agency, with over 50,000+ SSI Professionals in 130+ countries with more than 3300 SSI Training Centers worldwide. For 50 years, SSI has provided high-quality training in Recreational Scuba, Extended Range, Rebreather Diving, Freediving, Swim, and Lifeguard programs, from beginner to Instructor Trainer, with a Global ISO certification.
SSI v PADI, what is the best dive certification to have? 
The first thing to understand is that both PADI and SSI are recognized worldwide diving qualifications, and as recreational divers, they share a diving-level structure. No matter the organization you are certify with, you can use qualifications to dive at any dive center anywhere in the world.
Both PADI and SSI teach the same fundamental diving skills throughout their courses. PADI operates a more rigid sequence where the student learns and practices these skills in a set order; SSI courses offer flexibility, giving our instructors more freedom to adapt the course to meet their students needs. This way of learning is much more beneficial because there is less focus on completing a skill in a fixed session and more focus on mastering each skill at the student's pace as they build confidence, understanding, and value in the skills they are learning. With each dive logged, and every specialty course completed, SSI offers free recognition ratings and experience levels to celebrate your diving journey, as you become a more accomplished diver.
Check out this Qualification equivalency chart to see which level SSI Diver you are: 
PADI Scuba Diver = SSI Scuba Diver
PADI Open Water Diver = SSI Open Water Diver 
PADI Advanced Course = SSI Advanced Adventurer 
PADI Rescue Diver = SSI Stress & Rescue
SSI Digital Products 
A real deal-breaker for us was the outstanding quality and efficiency of the SSI Digital products. 
The SSI digital platform offers easier access and a more interactive and enriching learning experience. The digital certification card system is also easily accessible both on and offline. 
It is easy to create a profile and affiliate with us as a training center. Access via the MySSI App, on your mobile, tablet, or desktop makes your logging and learning easy and accessible. SSI goes much further than the program materials. 
MySSI gives you access to a comprehensive logbook that has access to over 65,000 dive sites worldwide. You can log all the details for your dive and share your dives with your dive buddy through a QR code which is a lot of fun. You also have direct access to the SSI network and events that are going on in your area.    
Part of our pledge to become a more sustainable operation was to get rid of paper manuals and go digital wherever possible this ticked all the boxes.  
SSI Recognition Ratings 
The SSI Philosophy is all about recognizing your diving journey and experience levels. As you train more with the SSI Specialties and log more dives through the SSI digital logbook, you are working towards a series of recognition ratings that you receive automatically free of charge.
| | | | |
| --- | --- | --- | --- |
| Level | Dives | Training | Free Recognition Rating |
| Level 1 | 4 Dives | |   |
| Level 2 | 12 Dives | | Specialty Diver |
| Level 3 | 24 Dives | | Advanced Open Water |
| Level 4 | 50 Dives | | Master Diver |
| Level 5 | 100 Dives | Diving Experience | Century Diver |
| Level 6 | 200 Dives | Diving Experience | Bronze Diver |
| Level 7 | 300 Dives | Diving Experience | Silver Diver |
| Level 8 | 500 Dives | Diving Experience | Gold Diver |
| Level 9 | 1'000 Dives | Diving Experience | Platinum Diver |
| Level 10 | 5'000 Dives | Diving Experience | Platinum Pro Diver |
Check out all the specialties you can do and the amazing discounts we offer to help you work towards your next recognition rating HERE. 
Why are we making the change? 
The Camel Philosophy is all about providing our guests with the best services available on the market. We believe in value, quality, and providing an unforgettable experience all under one roof. 
Having done overhauling and renovating our dive resort services after we closed in March 2020 and reopened in May 2021. We carefully reviewed how we want to move forward as a resort and evolve our diving services to focus on what our divers need. In many ways, having a break and taking this time to look at how we work has opened our eyes to new and better beginnings. SSI is a welcome part of this new beginning for us. 
During this review period, we realized that the SSI Training philosophy and digital products aligned perfectly with the direction that we wanted our services to go in. SSI embraces flexibility, innovation, and today's student diver and we wanted you all to be a part of that. 
In this sustainability-driven and digital world, we feel that SSI are pioneers working in a way that streamlines digital technology with the ever-evolving sport that is Scuba Diving. 
We look forward to welcoming you all to Camel Dive Club and sharing in our journey of becoming a part of the SSI family.