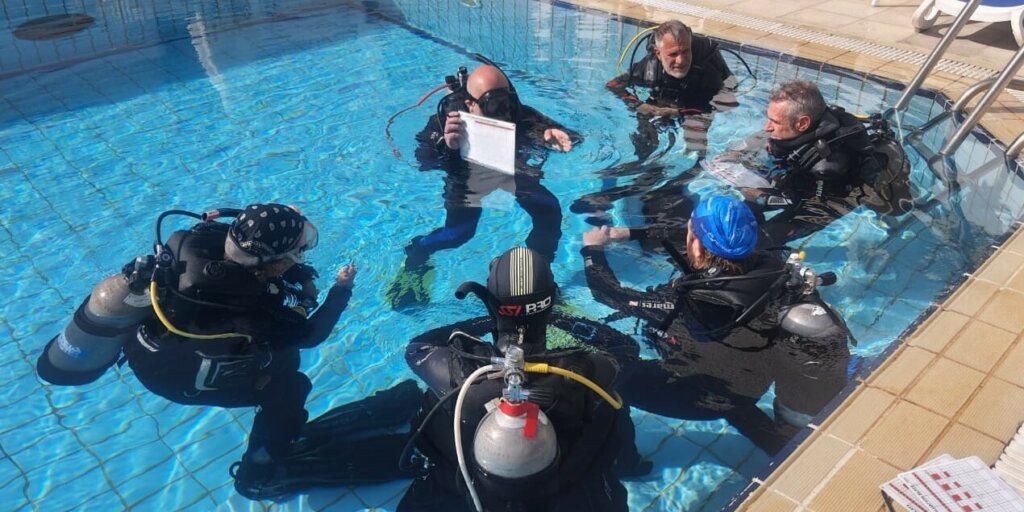 Are you ready to turn your love for scuba diving into a fulfilling career?
Mark your calendar for the upcoming SSI Instructor Course starting on 3 December 2023 in Sharm El Sheikh, Egypt.
With this globally recognized certification, you can embark on an incredible journey as an SSI Open Water Instructor, teaching and exploring the world.
Choosing the right training center is crucial for your success as a scuba instructor. That's why Camel Dive Club's Instructor Training Course (ITC) is the perfect choice. Led by our highly experienced SSI Instructor Trainer, Simone Pelucchi, this course offers unparalleled industry knowledge and real-world diving experience.
By joining our ITC, you can:
Benefit from industry experience: SSI Instructor Trainer's expertise will help you become highly employable worldwide. Dive centers seek instructors who can balance guest needs, collaborate with colleagues, deliver high-quality courses, and effectively promote diving.

Increase your job opportunities: While we cannot guarantee a job, approximately 50% of our ITC candidates work with us afterward. Displaying a positive attitude during the course enhances your chances of finding employment in the diving industry.

Gain teaching experience: Throughout the course, you'll have the opportunity to shadow our experienced staff as they teach SSI courses. This hands-on experience will give you the confidence and skills to teach your own students.

Experience professionalism and excellent facilities: Enjoy the high level of professionalism, top-notch dive resort facilities, and a friendly atmosphere that we offer to all our divers.
The 10-day course is designed to equip you with the necessary skills and knowledge to become a safe and successful diving instructor. It includes academic sessions, presentations, water skill circuits, and role-playing exercises. The first four days focus on becoming an Assistant Instructor, followed by six days covering all aspects of becoming a fully certified Instructor. At the end of the course, an external Instructor Certifier will assess your progress during a 2-day Instructor Evaluation.
To be eligible for the course, make sure you meet the requirements, including completing the Instructor Training Course digital learning, passing water fitness evaluations, and logging at least 100 open water dives.
Remember, independent study is essential for your success. The intensive daily schedule assumes that all independent study is completed prior to the course. Come prepared and ready to dive into the exciting world of scuba instruction!
Don't miss out on this incredible opportunity! Enroll now for the next SSI Instructor Course starting on December 3rd. Start your dive career and embark on a lifelong adventure beneath the waves!