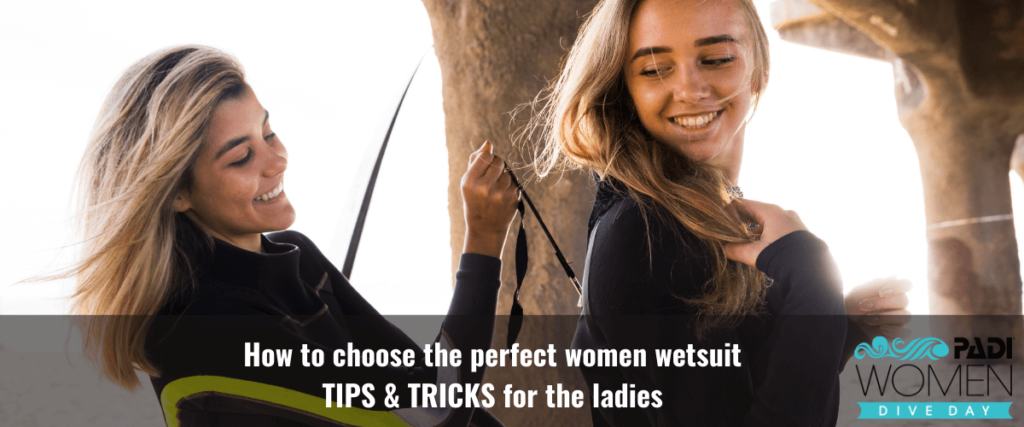 Turning Wetsuit Woes into Wetsuit Wows – How to choose the perfect women wetsuit.
PADI Women's Dive Day is all about creating awareness, sharing our experiences, and creating more opportunities for women across the globe to join in on our passion for everything scuba diving.  Ladies come in all beautiful shapes and sizes and today we are shedding light on this PADI Women's Dive Day on the question of wetsuit fit.
The basics: 
A good-fitting wetsuit will trap a thin layer of water between your skin and the suit and keep it warm so that you are comfortable on your dives. Too big and that water will flush out and you will feel cooler faster, too tight and you will feel restricted and uncomfortable. 
Here are the series of tips and tricks to get the ladies out there sliding into that neoprene number in no time.
A good starting point is knowing your dress size! Most wetsuits are based on standard ladies' sizes.
We are not all the same size on the top as we are on the bottom. A good rule, if you fall into this category, is to go with the larger of the two sizes.
If you find that you have a bit of additional space in the top you can always compensate with a chicken vest or thermal top that will come in handy as an extra layer during the cooler months under your suit and can also be used by itself with a pair of shorts in tropical waters. 
Think about where you will be diving and match your suit thickness. Wet suit thickness is measured in millimeters: 2-3mm for tropical water, 5mm for cooler water, and 7mm for colder waters. For very cold water, divers switch from a wetsuit to a dry suit which keeps you warm by keeping you dry. 
Check different brand size charts. Just like shopping on the high street, we all know that we can be a different size for every shop visit.
Trying on your suit! 
The best thing to do is try on the suit before you buy. Before heading out to your local dive shop for a fitting, remember these important things: 
Wear something light and easy to change in and out of and have some cold water to hand. It is a hot and sweaty process trying on suits and sweaty means sticky skin. 
Bring a rash vest, one-piece swimsuit, skinsuit, tights or lycra leggings, and a hand/foot-sized plastic bag or two. Putting on a pair of tights or leggings and a rash vest helps the suit slide on and off your body much easier. 
Expert tip …put a plastic bag over your hands and feet when sliding them into the suit. It creates less friction and the suit will slide into position better which means less struggling on your part. Do this before every dive and your suit seals will last much longer too.
Take a friend. We've all been stuck in a wetsuit in a changing room at some point in our lives and dive buddies come in handy above the water too! 
How should the wetsuit fit my body? 
A good wetsuit should hug your body like a second skin. It should be tight when it is dry but comfortable enough for you to move around comfortably. When it is wet it will loosen up so it is important that you make sure of the tight fit when trying it on dry. 
On your legs: The suit should come up to your crotch area and the length should go to your ankles without folds in the neoprene or sagging at the knee.
On your arms: A tight fit on the arms and torso with the arms coming from the armpit to just past the wrist bone. You should have full range of movement and not feel like your arms are stuck up in the 'zombie position' or your blood flow restricted when you are zipped in. 
Check your lower back: The sign of a good fit is if you try to grab at the neoprene on the lower back area. If you are struggling to get a pinch of neoprene then you are on to a winner. If you can grab a handful then the suit is not the one.
Seals: You should be able to stick your finger in the seals at the neck, wrists, and ankle. Any more space there is going to allow water to flush in and out of the suit and you will get cooler faster. It also avoids the neck rubbing that can happen if there is not a tight enough fit. 
Now you have the tools to find the perfect diving suit for you. The only thing left is to get wet and enjoy your dives!