Purée of fresh mushrooms, seasoned and finished with fresh cream.
Flavoured with onions and peppers, blended smooth and finished with a fresh cream.
White fish, calamari and shrimps in a fresh tomato sauce, accompanied by croutons.

Crispy bread topped with marinated tomato, with basil and olive oil.
Fresh baguette smothered with garlic butter and toasted to a golden brown.
Breaded chicken strips served with hot sauce and a creamy mustard dip.
Thinly sliced raw filet mignon with rocket salad, shaved Parmesan, extra virgin olive oil and balsamic vinegar. Served with toasted brown garlic bread.
White fish tartare marinated in extra virgin olive oil, lemon, pepper and salt.
Fresh Mozzarella cheese with sliced tomatoes, basil vinaigrette and balsamic sauce.
Crispy lettuce and grilled chicken breast, mixed with Caesar dressing and topped with Parmesan cheese and croutons.
Tomatoes, cucumbers, green peppers and olives tossed in olive oil and white vinegar. Topped with Feta cheese and oregano.

HOMEMADE RAVIOLI AL POMODORO
A square shaped pasta with ruffled edges, stuffed with spinach and ricotta in fresh tomato sauce.
HOMEMADE FETTUCINE AL POLLO
Fettucine in our homemade fresh to order white cream sauce with pan sauteed chicken and mushrooms.
HOMEMADE FETTUCINE AL POMODORO FRESCO
This is Italy on your plate. Fettucine in a traditional homemade tomato sauce with fresh basil and extra virgin olive oil.
HOMEMADE FETTUCINE BOLOGNESE
Perfect for meat lovers, this traditional low heat simmered sauce is made of braised ground beef sauteed with extra virgin olive oil in a mixture of celery, carrots, onions and homemade tomato sauce. Served with Parmesan cheese.
HOMEMADE FETTUCINE VEGETARIANE
A medley of mushrooms, peppers, zucchini, eggplant, broccoli and sun dried tomatoes meet a rich, herb infused tomato sauce with a hint of Parmesan cheese.
HOMEMADE FETTUCINE AL GORGONZOLA
This rich creamy Gorgonzola cheese sauce is dedicated to diners who love an intense cheesy flavor and it is a perfect match for the texture of our homemade pasta.
A hallmark of traditional Italian fish cuisine, this simple seafood pasta carries with it an air of refinement. Our Seafood Spaghetti combines king prawns with juicy calamari tossed in extra virgin olive oil, garlic, chillies, fresh tomatoes and parsley.
Spaghetti tossed with olive oil, garlic and dry chillies, served with Parmesan cheese.
Penne in a spicy tomato and basil sauce.
Ground beef and ground lamb mixed with spices, covered with tomato, onion and sliced potato all baked in caserole. Served with oriental salad, garlic tahina and Bedouin bread.
BRAZILIAN BEEF MEDALLIONS
Beef medallions topped with your choice of mushroom or pepper sauce, garnished with Chef's special ratatouille and roast potatoes.
GRILLED ORGANIC HALF CHICKEN
Marinated organic half chicken, served with roast potatoes and grilled seasonal vegetables.
Chicken breast stuffed with cheese and smoked turkey, pan fried. Served with French fries.
Boneless chicken breast and vegetables, grilled with rosemary garlic sauce, finished with balsamic olive oil, and served with rosat potatoes.
BASKET OF FRIED CALAMARI & SHRIMPS
Crispy calamari and full king prawns gently dusted in our seasoned flour then lightly fried, served in a rustic basket.
Sea bass marinated in parsley, lemon and olive oil. Served with rice and Chef's ratatouille.
Large shrimps, grilled (or pan fried if you prefer) and topped with herb lemon butter. Served with Freekeh (cracked green wheat) and peas infused in a seafood bisque.
Shrimps, Nile perch fillet and grilled calamari finished with lemon butter, accompanied by grilled vegetables and Freekeh (cracked green wheat) with peas infused in a seafood bisque.
A generous main course sized portion of this sumptuous soup featuring white fish, calamari and shrimps in a fresh tomato sauce accompanied by garlic bread.
White rice, Roast potatoes, Sauteed vegetables, Sauteed spinach, French fries, Grilled vegetables, Basmati rice, Ratatouille (aubergine, zucchini and peppers in a Mediterranean light stir-fry)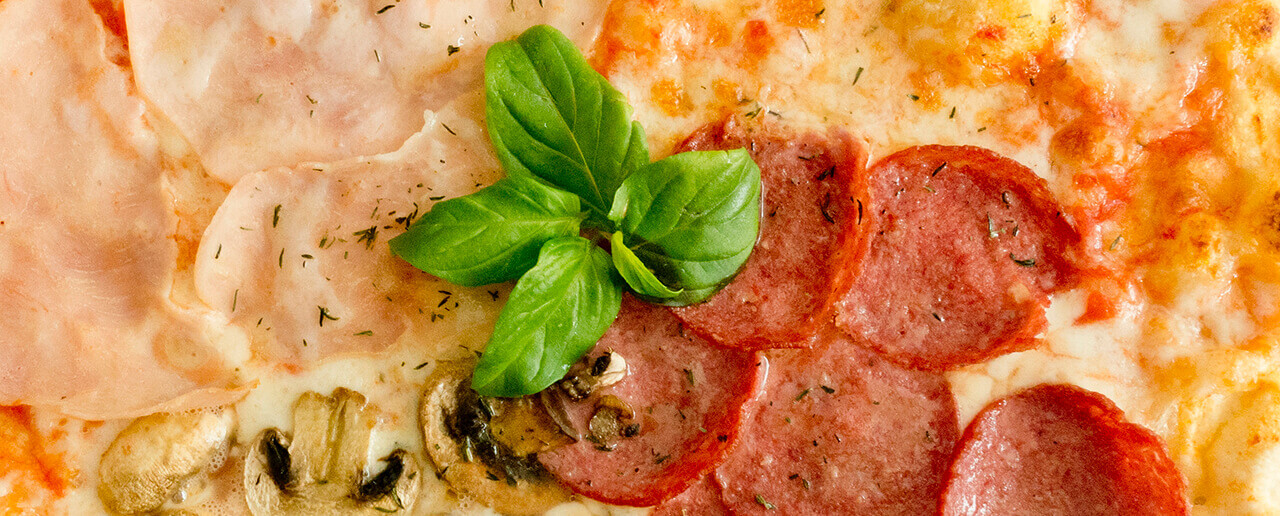 Tomato sauce, Mozzarella cheese, fresh basil and olive oil.