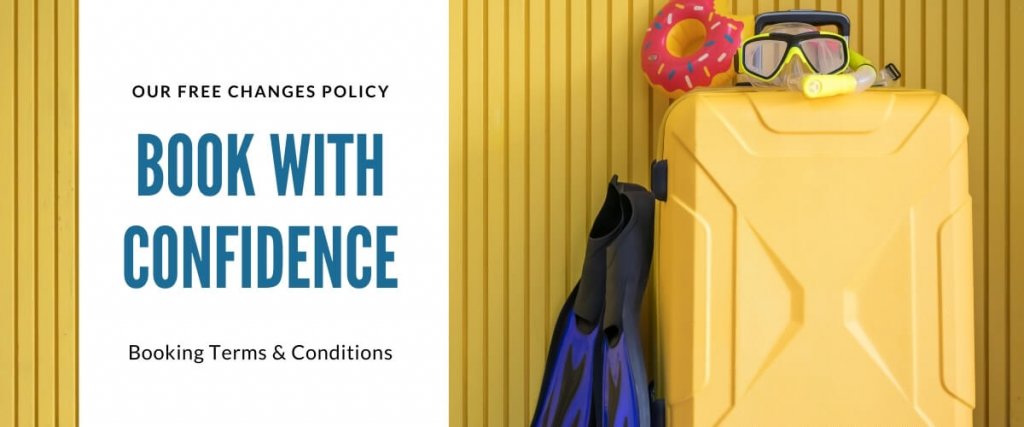 Plan with Confidence

 
During this period of transition for global travel and tourism we understand that extra reassurance is needed when committing to your holiday booking with us. We understand that travel advice can change at short notice and flexibility is key to booking with confidence right now.  If plans change your holiday with Camel Dive Club & Hotel can change too! 
FREE CHANGES POLICY:

 If your booking has been directly affected and you are unable to travel due to changes in your countries Covid-19 restrictions, you can change your booking dates free of charge up to 21 days before your arrival / plan ahead with confidence and keep your deposit as a credit voucher valid until 31.12.2022. Please check the availability for your new travel plans.

How to change your booking: Our reservations team are here to assist you with all your planning needs and discuss all of the options you have available to you. Get in touch with any questions or queries you have at info@cameldive.com today.

Travel Ban Protection: Transfer your trip to a new date or opt for a credit voucher valid until 31.12.2022 if your booking is impacted by a lockdown travel ban.

Sustainability:

We believe in leading by example, collaborating and driving industry change whenever we can, all while setting realistic, measur

able sustainability goals. We always work

 to shape our future in a way that's kinder to people and the environment.

Wellbeing:

Your safety 

and

 wellbeing remains our

 top priority

 as th

e world begins to open up again. W

e are evolving

 and aligning our everyday operations throughout Camels outlets

 to comply with the most current 

Ministry of Tourism, PADI and  DAN

 regulations and recommendations 

to ensure that you can relax and enjoy your time with us.
Travel Alerts

 
If you have any questions about upcoming travel, please contact us.
It is important to consult your own local foreign travel advisory when planning your trip to be sure of the following: 
Whether your government permits travel to the destination.

What the entry requirements are for you in the destination (

ie

. is quarantine, self-isolation or COVID testing required)

.

What the requirements are for returning to your home country from the destination (

ie

. is quarantine, self-isolation or COVID testing required).

What types of travel insurance are available/required for travel.

Whether transiting through other destinations affects any of the above.
More information here:  
FAQ 
Why am I being asked to take credit?  
By taking the credit voucher it enables us to provide some security to all of the staff who are patiently waiting for tourism to reestablish to some form of normality, and it will enable us to offer you the best service and trips imaginable when the world opens up again. We have all been impacted either personally or financially as a direct result of the pandemic and understand if credit is not going to suit everyone. We are not denying refunds.   
By accepting that credit and keeping your trust in Camel Dive Club and Hotel, you're making a down payment on the kind of diving and holiday service you want to see when the worst of this coronavirus epidemic has passed.  
How long is my credit voucher valid for? 
All our credit vouchers are valid until 31.12.2022.  
What are your booking terms and conditions? 
We require a non-refundable payment at the time of booking of  Euro 120.00  per person.  If you are unable to honor your booking as a direct result of the Covid-19 Pandemic, your deposit will be made redeemable as credit for use in any future booking with us up to 31.12.2022.
You will be required to pay the balance of the package you have booked either in advance or upon arrival at the reception of our hotel. 
 In case you do not use (fully or partly) the services booked, or choose services of a lower value, no refund will be given. In case you upgrade your diving services, a supplement will be payable upon check-out.
Are there flights available from my country? 
If you are planning to travel but are unsure which airports in your country are flying either directly or indirectly to Sharm El Sheikh Airport, take a look at this flight finder.